Since gaming is more than 'just' playing games we all see a trend for the best looking gaming pc cases for a few years now. So I though I'd make my own list of preferred cases.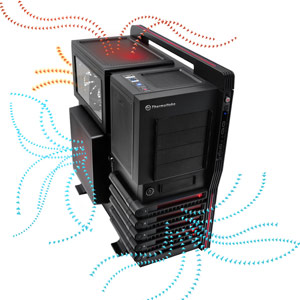 Thermaltake Level 10 GT – has the things I look for. It looks like it's ready to transform itself into one of those Transformars machines. Now don't think this is all about looks since this is one of the high end full tower cases. Some may compare this with a fat kid, but I have to disagree. What I can agree with is that considering it's top price the performance is lower than what you would expect from it. For same performance you can use some cheaper cases that are bellow $200. What you got for the extra money is the mean design.
Cooler Master HAF X Full Tower Computer Case – reminds me of the first 2 movies of Terminator. It has the rough aspects of a first machine and the red lights gives the feel of being alive when it's on. For less than $200 it gives great capabilities for expansion: 9 expansion slots for increased expandability and it supports up to 6 ODDs/6 HDDs. I found that this case ideal for gaming according to gamingpccases.net is capable of hosting even a water cooling system, making it ideal for overcloackers.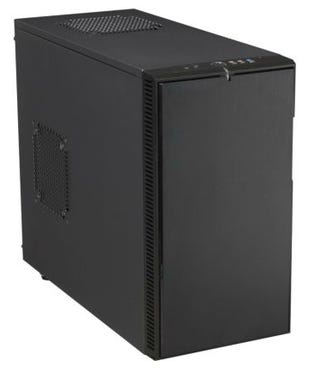 Fractal Design Define Mini Black Micro – has 3 benefits: it has a minimalistic design (if you like that) but modern, it's silent (so that is a plus if you play without headsets) and it occupies a small space. Even it is small it has space for expansion and the price is just around $100.
Corsair Carbide Series Air 240 – http://ecx.images-amazon.com/images/I/51-KF4zL9HL._SL1500_.jpg – it still has a small touch of minimalist look that has added to dominant aspects: modern seriousness and high performance. This case has been optimized for maximum airflow and even has room for water cooling if you want even though this is a mid tower. It has multiple colors but my favorite ones are the white and the black one.
Antec Nine Hundred Black Steel ATX – is a mid tower as well and just like Corsair 240 has a lateral window. This is good when you are good at cabling and when you include some lights inside. This will give the sensation of limitless tech capabilities. Other than the later window this case is somewhat boring. So I would buy this only if I know I would maximise the looks through its lateral window. For a similar price the previous case offers much more from my standing point. The look of it remind me of nintendo because of the top part where you have the usb ports, mic and headset jacks.
Other way to get in the club if those with the best looking gaming pc cases you can paint it or apply some print stickers. The result will be influenced by your ability and design taste. I am not getting into this as I am not good at manual crafts as these.